Note: The details in this article may differ from your instance due to brand customizations or policy settings.
This article will show you how to complete the tasks on your at-risk task pad.
1.   The task pad will automatically open the first pending task.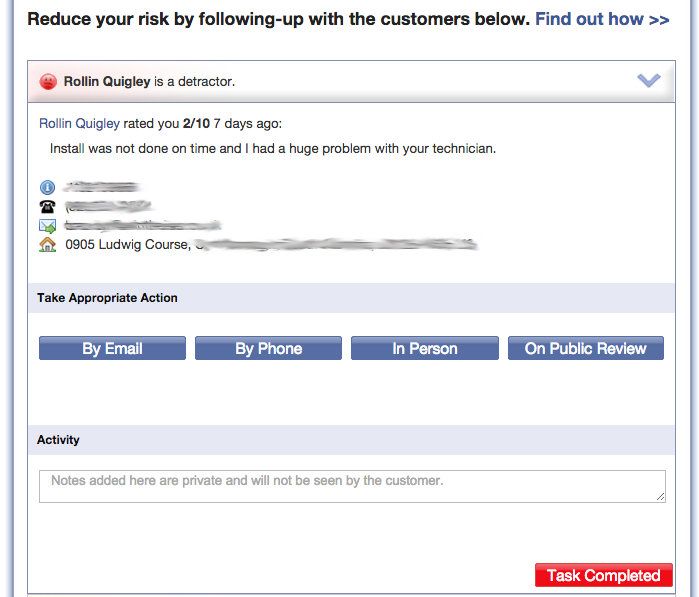 2.  Contact the customer to attempt to resolve the issue that they have identified. You'll have the opportunity to take appropriate action.
 
By Email: This will open the email client on your computer to send an email (most likely Outlook). Your email will be bcc'd to Listen360 as communication with the customer.
By Phone: Add Notes from a By Phone conversation (private notes)
In Person: Add Notes from an In Person conversation (private notes)  
Example of By Phone below: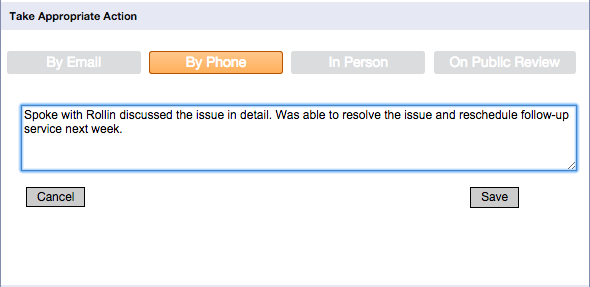 By Phone and In Person are both used to document conversations with the customer internally. The customer will not see the comments provided.
On Public Review: If you have chosen to publish your reviews on your website or on your Facebook fan page, you may use the On Public Review button to post a response to the comments your customer has made. This functionality will allow you to make sure the public knows that their issue was handled promptly and professionally.
On Public Review: allows you to provide a rebuttal to the customer feedback publically. Remember to address your comments towards the issue, not the customer (Optional, if posting feedback to the web)
  Example of On Public Review below:

 3.   Once you have contacted your customer and recorded the outcome of the conversation, simply click the button that says 'Task Completed'. This will remove the task from the 'Task Pad'.

4.  Repeat above instructions to complete all tasks on your At Risk Task Pad. You'll know you're finished when all tasks have disappeared and your risk has dropped to zero.
Additional Questions? Please reach out to Listen360 Support via email at [email protected]