You can easily preview the TrueReview invitations that your customers will receive via Listen360. The article will walk you through the process of previewing your TrueReviews invitations and allow you to see the Google and Yelp pages we are using.
Note: The screenshots included in this article may differ from your instance of Listen360 due to brand customizations, policy settings, or the permission granted to your user account.
1.) After signing in, you will need to select the 'Reviews' dashboard toggle.

2.) Select 'Settings' on your TrueReviews Dashboard

3.) Select 'Promoter Invitations' on the settings selections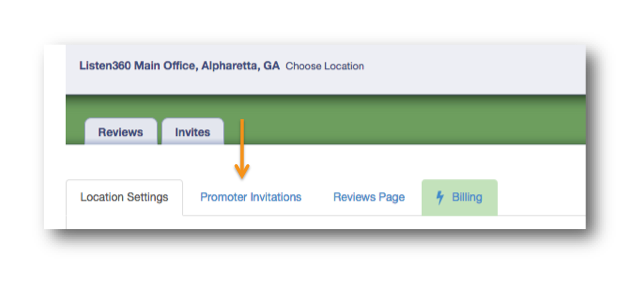 4.) Scroll down and select 'Preview' under 'Email Content'.
5.) You will then see the preview of the email. You can click on 'Share on Google' and 'Yelpers click here' to confirm the correct pages.